On October 4, the international presentation of the report "Zero Waste to Zero Emissions: How Reducing Waste is a Climate Gamechanger" written by the Global Alliance for Incinerator Alternatives (GAIA) will take place.
The European continent is represented by the case of Lviv in this report.
"Zero waste strategy is an important tool for reducing greenhouse gas emissions from landfills, particularly methane. And for Ukraine, it is also very important in the context of reducing dependence on fossil fuels," commented Iryna Myronova, co-author of the report, executive director of Zero Waste Lviv, a member organization of Zero Waste Alliance Ukraine, Zero Waste Europe and GAIA.
The waste sector accounts for 20% of global emissions of methane, which is a more dangerous greenhouse gas than CO2. Better waste management could reduce emissions in the waste sector by 84% (1.4 billion tonnes) and significantly reduce emissions in other sectors.
This is the first report of its kind. It presents global case studies of how cities' waste reduction policies not only help to combat climate change, but also lead to  socio-economic and political benefits. In Europe, this can be seen through the example of the Zero Waste Cities network, which is coordinated by the Zero Waste Europe organization (the European branch of GAIA), and the report highlights the case of the city of Lviv. Even in times of Russia's war on Ukraine, Lviv is successfully reducing waste and serving as an example of resilience and dedication. Some of the waste reduction steps implemented in the city include separate collection of waste (especially organic waste) and numerous waste prevention programs for such waste types as single-use plastics and hygiene products.
"The zero waste approach became a way out of the garbage crisis for Lviv after the landfill fire of 2016. Today, it helps reduce our dependence on fossil fuels, which in wartime is not only a matter of climate, but also of national and global security. It allowed us to better serve IDPs by providing them with food in reusable containers, it taught us resourcefulness and compassion by providing them with reusable diapers, menstrual products, and second-hand household items. The case of Lviv can help create a zero waste emergency response protocol for the communities around the world," said Iryna Myronova.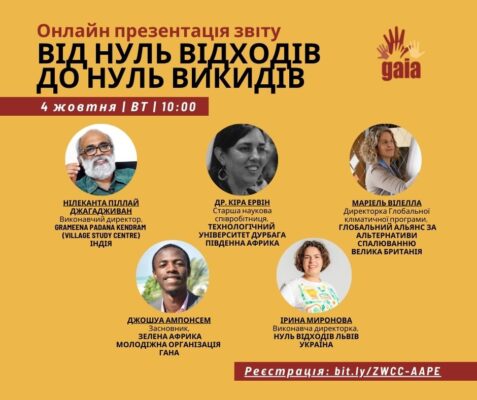 The report will be presented online on October 4 at 10:00 a.m., simultaneous translation from English to Ukrainian will be provided. Registration is open to all interested parties via the link: https://cutt.ly/uVZMWtU.
The report will also be broadcast online on the Zero Waste Lviv page.
Speakers:
Dr. Kira Erwin, Senior Researcher, Urban Futures Centre, Durban University of Technology (South Africa)

Neelakanta Pillai Jagajeevan, Executive Director, Grameena Padana Kendram (Village Study Centre) (India)

Iryna Myronova, co-founder and executive director of the Zero Waste Lviv NGO (Ukraine)

Mariel Vilella, Director of Global Climate Program, GAIA (UK) 

Moderator: Joshua Amponsem, Founder of the Green Africa Youth Organization (Ghana)
About the report
The theoretical part of the report analyzes how the zero waste approach reduces the amount of greenhouse gas emissions: through separate collection and composting of organic waste, as well as transition to reusable alternatives to single-use items.
A carbon calculator was used for the estimations. It shows how city strategies help to reduce greenhouse gas emissions, in other words, to combine a climate strategy and a zero waste strategy.
The second part of the report is practical and includes case descriptions for eight different cities from different parts of the world (the city of Lviv represents Europe). The report provides comparative calculations of greenhouse gas emissions in 2030 for two scenarios: if everything stays as is and provided that cities implement a zero waste approach.
According to the GAIA report, implementing a zero waste system in cities around the world is one of the fastest and most affordable ways to reduce global warming and stay below 1.5°C.
Additional Information
The waste disposal sector accounts for 3.3% of global greenhouse gas emissions and a fifth of total global methane emissions. Implementing better waste management policies, such as separate waste collection, recycling, and composting, could reduce total emissions from the waste sector by more than 1.4 billion tonnes, which is equivalent to the annual emissions of 300 million cars. This will provide a better effect than the disappearance of all the cars from the European roads for a year.
But these figures are not enough to understand the potential impact of reforms in the waste management industry. At least 70% of global emissions come from the production, transportation, use, and disposal of goods. Focusing on waste reduction can significantly reduce emissions in these sectors. For example, the production of items from recycled aluminum requires 96% less energy than production from virgin raw materials.
The potential of the zero waste approach is also significant for reducing methane emissions. The impact of methane on climate change is more than 80 times stronger than the impact of CO2, but methane does not last long in the atmosphere. Reforms in the waste management sector could reduce global methane emissions by 13% worldwide. This would provide huge climate benefits over the next few decades and "buy time" to reduce other emissions.
The GAIA report modeled potential emission reductions in eight cities around the world. Calculations showed that, on average, these cities could reduce emissions in the waste disposal sector by almost 84% by implementing the zero waste approach. And some, such as São Paulo and Detroit, can achieve net negative emissions by 2030.
The GAIA report also shows how implementing zero waste principles can help cities adapt to the escalating climate crisis by preventing floods and droughts, strengthening soil and agriculture, reducing disease transmission, and creating new jobs.
Despite this, more than a quarter of countries' current climate plans do not include measures to reduce emissions in the waste sector. Waste management will be one of the most important topics to be addressed at the UN Climate Change Conference (COP 27) in November 2022, where the host country (Egypt) plans to put forward the Africa Waste 50 Initiative, which aims to treat and recycle 50% of the waste generated in African countries by 2050.